ADS - IBT & Motrocycle Training
Whenever we make decisions in life to purchase valuable items, we take certain steps before we part with our hard earned money.

Is it value for money?
Can I get a better deal?
Do I need the item in question?

Well Motorcycle training is no different. There are many places you can go to, and many prices you can be quoted. All I will say is "You can't beat experience"

With over 30 years driving experience with cars and Motorcycles, there is not much I haven't seen over the years. I have also seen a large increase in the number of students turning to motorcycles as a means of transport to and from college, and as a parent myself, understand the concerns parents have about the dangers of motorcycles, that is why Every person that signs up for training will be assured the highest standard of training possible. As I have said "You can't beat experience"

Wherever you choose just make sure it is an RSA approved centre, and that the instructor is IBT approved.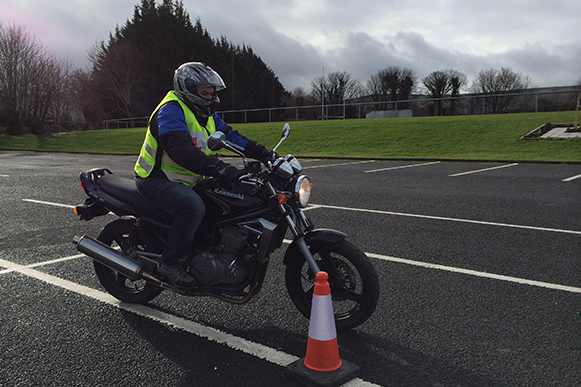 Testimonials
Best value for money around. Training can be done in a group but Dave gave me the 1:1, which I strongly recommend. Dave makes you feel relaxed, calm and confident. Cheers Davy.
Karl
_________________________________________
I 100% recommend Dave, I finished my IBT today and drove the 600cc Hornet, Dave was a brilliant instructor, teaches you at your own pace too, thanks
Belinda Dillon
_________________________________________
Completed the A / Direct Access IBT yesterday. Very impressed with how thorough, patient, informative and easy going, Dave was. Unbelievable value for money. Highly recommended.
PJD
_________________________________________
Fantastic person to deal with! Very nice &honest! Professional service. Provide all motorbike equipment Would really HIGHLY RECOMMENDED to all!
Rafel Czu
_________________________________________
It is certainly true "You can't beat experience" I was a nervous wreck when I arrived, however I didn't need to worry. Daves teaching experience and patience made sure I felt totally safe and in control
Paul Jones
____________________________________

To be honest I have been driving bikes for over 10 years and was forced to do the IBT course as I had not renewed my learner permit. What could I possibly learn from this guy !!!! I was totally amazed at what I learned from the course. Not only did Dave point out many bad habits I had accumulated over the years, but he totally changed the way I THINK about riding my bike. I feel so much safer on the road now. Cheers Dave.
Kevin McDowell
____________________________________

Done my IBT with Dave and found the teaching style so interesting. There were 2 people on the IBT course that day, and he somehow managed to explain things in different ways, so we both FULLY understood what we were doing. Not only was it an interesting course, we had a good laugh also!
Joe Philips
____________________________________

Went for the IBT course as 4 of us wanted to do Route 66 and needed to get our full Licence. The course was excellent, and what was extremely interesting was the teaching style . The four of us were split in 2 groups of 2 and over 2 weekends we had successfully completed the course. After the IBT we all went back for further training before our driving test, and I'm delighted to say we ALL passed first time.  We are all off to do Route 66 in March 2104. I would not even consider recommending anywhere else to go for training.
Cheers Dave from the Fab Four!
Gary, Tom, Jason, Mick